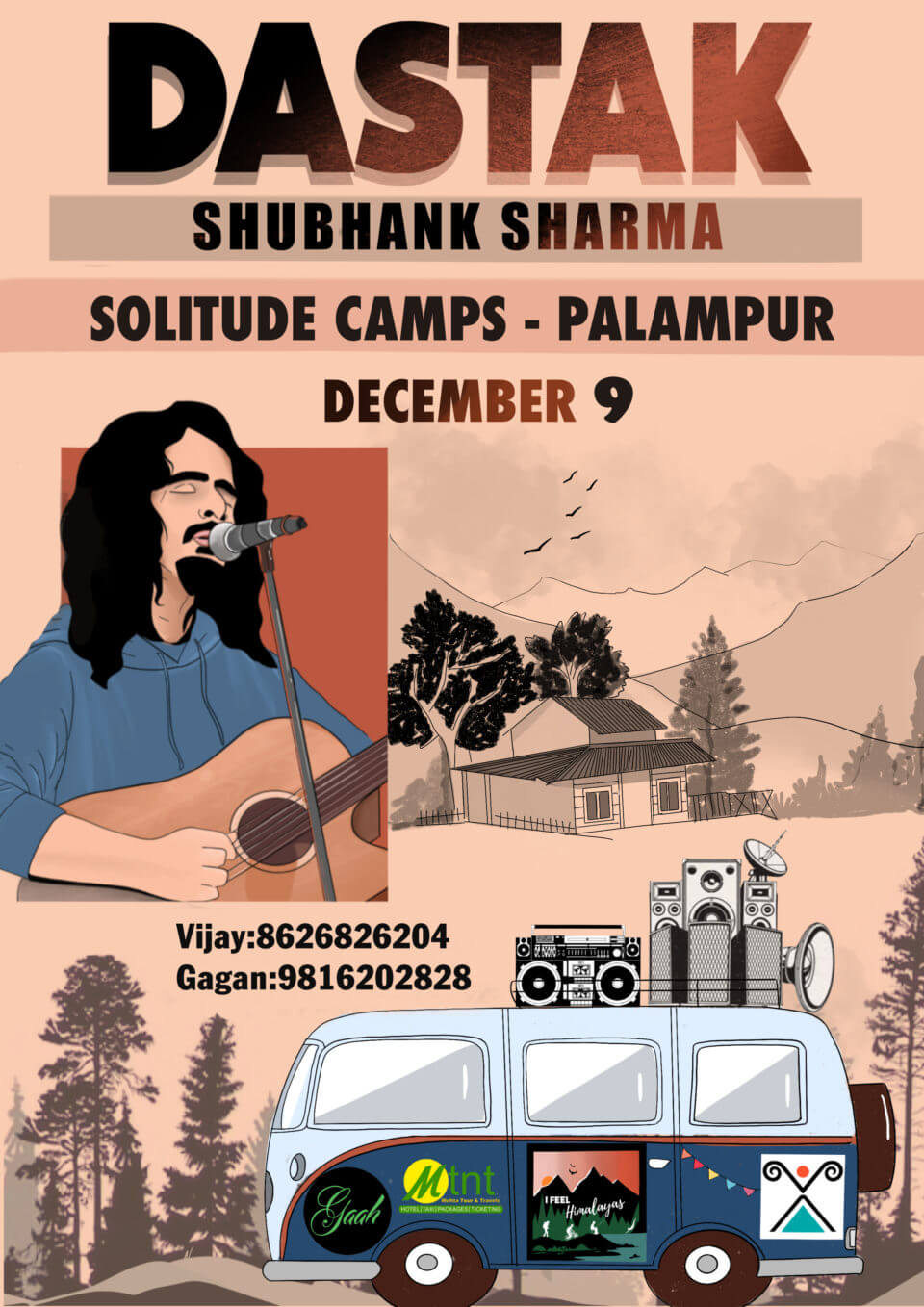 "Because you can't download a live experience"
" Dastak " on an epic tour to Himachal Pradesh to promote Indie music, SHUBHANK SHARMA is performing live at " THE SOLITUDE CAMP " for an outstanding gig.
We take immense pleasure in introducing you to what can be entitled as the biggest indie music movement to ever happen in Himachal Pradesh and it brings us sheer joy to be a part of it.
Live music is back in the scene and we know you love it as much as we do. Since live music is gaining popularity all across the country, we believe its high time we create and be a part of something amazing in Himachal too. Opening its aspects, we invite you to be a part of this revolution.
Let's discuss the tour in detail:
The tour will endorse artist Shubhank Sharma who will be travelling and playing his music at different venues across the state. Shubhank Sharma is one of the pioneers of current Indie Music scene in not only Himachal but other places as well and has influenced many youngsters and musicians who look forward to listening to his music and be a part of his gigs. Known as next Mohit Chauhan of the state he needs no introduction to most of us but to still understand his music we can define him as a self-taught singer, songwriter, composer and, multi-instrumentalist.Shubhank Sharma doesn't just sing, he PERFORMS!
He gains his influence from a varied spectrum of genres – a blend of blues, folk grunge to name a few. He is ingenious when it comes to his playing style and uplifting vocals. Dynamic in his way of unfurling different soundscapes, he bewitches the audience with his mind-blowing skill set.
Many people from Himachal see him as a proud icon of the state and are eagerly waiting for his live gigs and new music. Since Shubhank Sharma is all set to launch his new EP, we think the timing couldn't be any more perfect.
The tour will showcase in six different cities, twelve different venues covered by different media houses and radio channels, promoting the tour both offline and online and connecting different people from the area and creating a massive indie scene.
The tour will begin from 1st December, covering places like Shimla, Dharamshala, Solan, Manali, Hamirpur, Mandi, Bir, Tirthan, and Kasol.
We will also be tagging one local artist (preferably an indie musician) at each venue to promote the indie music at the local level.
Shubhank Sharma's Profile:
Played at NH7 weekender, Miss Tibet Dharamshala … Nominated for VIMA MUSIC AWARDS IN 2013 for best ROCK SONG 'YEH KYA JAGAH' which got regular features in MTV, Vibers8 festival, High Spirits Pune, Raasta Cafe Mumbai, Campers Music Festival, Upstair club Chandigarh and many other esteemed venues.
Booking starts now:-
The event will start on 9th of December 2019 04 00 PM onwards
Will include evening snacks, Tea/coffee
Live performance
Veg / Non-veg Dinner
Entry Fee:- INR 750 per person